Delicious - Emily's True Love or Delicious 7 is the seventh installment of the Delicious series. The new Delicious game takes place one year after Emily has opened her own restaurant. Her restaurant is doing well, then a love letter arrives and turns her world upside down. Emily must travel the world to find her true love, helping out at restaurants along the way.
The Platinum/Premium Edition is the same game but with bonus features, including 10 bonus game play levels, 10 exclusive restaurant items, a helpful strategy guide, a Delicious screensaver, and (computer) wallpapers.
Playthrough of the first two levels plus info on trophies can be found here. A full (but shorter) walkthrough is on casualgamesguide.
This game continues the mouse mini-game, in which the player must click on the mouse that pops on the screen every now then. The mouse will give you 100 points and a trophy can be earned for catching all 50 mice. The game also continues the line of mini-games through each day in which you have to fulfill an action (clean dirty dishes from previous day, collect scattered objects on the screen, etc.) that gives you a certain amount of points when completed. 
One new big feature of this game is the intelligent register line, in which the customers do not wait one behind another if there's a space vacant. This improvement from previous games helps the player maintain the customers high level of satisfaction and form combos of action more easily. Target score and expert score are now shown through stars during the level; a blue one for target and a gold one for expert.
Characters
Edit
Emily is the main character once more. This time she receives a 16 years-old love letter from and her summer romance Jean Paul. After reading the letter she decides to go on search for him, working on several restaurants on her way.
François  gains a bigger role in this game running Emily's Place while she is away on her search for Jean Paul. When not running the restaurant, he acts as entertainer for Emily. On the Premium Edition of the game the player can enjoy 10 episodes playing as François, showing what happened on the restaurant during Emily's absence.
Angela is Emily's sister. She gets married to Jimmy by the end of the first restaurant part.
Jimmy is Angela's fiancée, to whom Angela marries by the end of the first restaurant part. He likes to take advantage of the situations and always have some scheme to make things go the way he wants.
Evelyn is Emily's mother. She helps Emily with the cleaning of her restaurant and is always worring about her love life.
Eduardo is Emily's father. He stays around the restaurant helping with cleaning and entertaining when needed.
Patrick is the florist from which Emily buys her flower arrangements. Emily and Patrick develop a crush for each other.
Jean Paul is Emily's sixteen years old French summer romance. He's the owner of Chez Jean-Paul, the French restaurant Emily works after arriving in Paris in order to find him.
Carmen is the owner of Carmen's Comedor, a restaurant located in Madrid Airport. Emily works in her restaurant while she waits for her luggage to arrive and for the train to Paris, and also helps to improve the service of the restaurant and Carmen's love life.
Carlos is the airline baggage help, who is in love with Carmen. His dream is to open his own salsa studio in Paris.
Fresco is the owner of Fresco's Diner Express, a restaurant located on the train Emily takes from Spain to Paris. Emily works on his restaurant while on the trip to Paris and helps him improve the quality and appearance of the place before a critic's arrival.
Philippe is a food critic that constantly flirts with Emily in Europe. He seems to be rude at first, but he eventually is helpful towards Emily on her quest.
Amelie is a french florist Emily meets after arriving in Paris. Amelie shares with Emily her romantic story and engagement with her secret boyfriend.
The game includes five restaurants of ten days each, with the days divided into 5 major events that guide the direction the history will take.
Each day Emily must achieve a certain goal in a set amount of time and optionally an expert goal. ​Customers come in (alone or in a group) and choose to either sit down at a table, at the bar counter or take out. Emily must serve them and accept payment before they become impatient and leave. Order sizes vary from 1 to 2 items for a single customer, and up to 4 items for a group.
There are types of items that customers can order, which increases in number and complexity as the game progresses:
Items that are ready to serve, and have no limit capacity. When ordered, these items can be served right away, without preparing or restocking.
Items that need to be combined, and restocked after a few servings.
Items that are first combined, and then stocked up.
Items that are first grilled or baked, and then prepared. These items will burn if they are baked too long though.
Items that are prepared using a timer that must be stopped in time.
Aside from serving customers their orders, Emily must also keep the tables in the restaurant clean. If there are no clean tables available when new customers come in, they will wait only for some seconds before leaving. Since customers can be very impatient, on the sixth day of the restaurant an entertainer is introduced. When an entertainer is sent to a table with customers, this will make them happy and give them more patience while they wait to be served. Happier customers also leave bigger tips.
Besides the profit Emily makes during a day, she can earn up to 200 decoration money that can be spent on decorating her restaurant. This money is won by achieving the expert goal and finding the mouse during the work day. A well-decorated restaurant keeps the customers happy and patient, and result in bigger tips.
The First RestaurantEdit
Emily's Place is a small town cafe that has 9 unique deliverable items:
Ready to serve items:

Cookie
Cheesecake
Tea
Italian ice
Chocolate milk
Newspaper

Combining items:

Bruschetta combined with:

Lettuce
Tomato
Mozzarella
Olive

Baked items:

Bell pepper (stocked up to 9) combined with:

Timer items:
The decoration is exhibited on a catalog. There are 8 decorations available to be bought, costing a total of $2.550:
Chairs 'n Tables: Improve costumer patience with these comfortable chairs and tables. Cost: $300.
Ceiling fan: Cool down hot headed customers with this ceiling fan. Cost: $200.
Kitchen: Serve your hungry customers faster than ever with this shiny new kitchen. Cost: $500.
Service Pack (Exclusive Premium Content): Add a little service and your customers feel more generous. Cost: $200.
Large Pepper Plant: Blossoms keep your customers in a good mood and when peppers arrive you'll have increased stock. Cost: $350.
Comfy Corner: This comfy corner keeps customers happy for longer. Cost: $500.
Rugs 'n Cushions (Exclusive Premium Content): Customers feel right at home and increase their tip with these rugs and cushions. Cost: $400.
Fresh Flowers: Subscribe for fresh flowers every other day and brighten up everyone's day. Improves your tip. Cost: $100.
​The cleaner of this restaurant is Emily's mother, Evelyn, unlocked on Day 3. The entertainer is François, impersonating a mimic for the customers. He is unlocked on Day 6. On Day 7 Emily's Father, Edward, takes the roll of cleaning due to her mother being busy with this day's mini-game. On Day 10 Edward takes the roll of entertaining due to François being busy running the restaurant in Emily's absence. He makes paper dolls for the customers.
The Second RestaurantEdit
Carmen's Comedor is an airport restaurant that has 12 unique deliverable items, related both to Spanish cuisine and culture:
Ready to serve items:

Sangria
Coffee
Flamenco Hat
Flamenco Fan
Sunglass

Combining items:

Churro combined with:
Palmera combined with:

Restocking items:

Jamón Ibérico (stocked up to 6)
Spanish Sausage (stocked up to 6)

Baked items:

Paella combined with:

Seafood
Chili pepper
Chicken

Calamari combined with:
Patatas Bravas combined with:
The decoration is exhibited on a catalog. There are 8 decorations available to be bought, costing a total of $2.450:
Chairs 'n Tables: Sit down and relax. These comfortable chairs and tables increase customer's patience. Cost: $400.
Exotic big plant: Cheer customers up with this exotic big plant. Cost: $150.
Kitchen: Please airport customers by providing super-fast service. Cost: $500.
Souvenir Stand: People love local souvenirs and it shows in their tips. Cost: $200.
Entrance decoration: Bienvenido a Madrid! This entrance makes your customers happy. Cost: $400.
Exotic plants: Keep your customers in a great mood with these exotic plants. Cost: $250.
TV Advertisement (Exclusive Premium Content): Advertising delicious local treats attracts the purple lady bonus customer. Cost: $300.
Big Rug (Exclusive Premium Content): Increase Emily's speed with this nice looking big rug. Cost: $250.
​The cleaner of this restaurant is Carmen, the restaurant's owner, unlocked on Day 2. The entertainer is a flight attendant that dances flamenco for the customers. She is unlocked on Day 6. 
The Third RestaurantEdit
Fresco's Diner Express is a train restaurant that has 8 unique deliverable items:
Ready to serve items:

Baguette
Croissant
Milk
Magazine.

Combining items:

Toast (stocked up to 6) combined with:
Salad combined with:

Carrots
Cucumber
Tomato
Shrimp

Timer items:

Strawberry combined with:

Glass (to make juice)
Ice cream

Orange combined with:

Glass (to make juice)
Ice cream

Kiwi combined with:

Glass (to make juice)
Ice cream
The decoration is exhibited on a catalog. There are 8 decorations available to be bought, costing a total of $2.200:
Chairs 'n Tables: Make this ride even more comfy with these new chairs and tables. Cost: $400.
Monkey: This furry little monkey stocks magazines like crazy. Cost: $400.
Kitchen: This new kitchen makes Emily even more efficient. Cost: $500.
Bar 'n stools (Exclusive Premium Content): Keep your bar customers happy with these new stools and bar. Cost: $250.
Window curtains: These cozy curtains improve customer's tip. Cost: $350.
Chandeliers: Customers appreciate the improved atmosphere of these chandeliers, provides an extra tip. Cost: $200.
Painting of Paris (Exclusive Premium Content): Destination Paris! Customers will daydream about the most romantic city on earth, increase their patience. Cost: $200.
Boards 'n plants: Brighten up your customers with these new boards and plants. Cost: $300.
The cleaner of this restaurant is Fresco, the restaurant's owner, unlocked on Day 2. The entertainer is a train conductor that plays with a scale model train for the customers. He is unlocked on Day 6. 
The Fourth RestaurantEdit
Chez Jean-Paul is a typical French restaurant that has 12 unique deliverable items:
Ready to serve items:

Crème brûlée
Chocolate cake
Fruitcake
Lemon water
Oyster
Caviar

Combining items:

French Onion Soup (stocked up to 6) combined with:
Asparagus combined with:
Lamb's meat combined with:
Salmon combined with:

Baked items:
The decoration is exhibited on a catalog. There are 8 decorations available to be bought, costing a total of $2.550:
Chairs 'n Tables: Customers are more patient in these romantic chairs and tables. Cost: $400.
Flowers in pot: Romance and flowers go hand in hand. Improves tips! Cost: $300.
Kitchen: A 2-star restaurant deserves a 2-star kitchen, improves efficiency. Cost: $500.
Balustrade garlands: Make this place even more romantic with these balustrade garlands. Cost: $300.
Pond fishes (Exclusive Premium Content): Add a bit more life to the pond, increases tips. Cost: $250.
Fountain: Customers love to throw in a little extra to make their wish come true. Cost: $400.
Carpet: Increase Emily's walking speed with these new carpets. Cost: $100.
Dish tables (Exclusive Premium Content): Nice decorative table that increase Emily's efficiency. Cost: $300.
The cleaner of this restaurant is Nadia, the restaurant's waitress, unlocked on Day 2. The entertainer is a painter that makes a canvas of the customers. He is unlocked on Day 6.
The Fifth RestaurantEdit
Emily's Place has been redecorated, with a new fresh and vivid atmosphere. It has 9 unique deliverable items:
Ready to serve items:

Apple pie
Donut
Tea
Club Sandwich (comes in 3 sizes: 1/3, 2/3 or 3/3)

Combining items:

Fruits basket combined with:
Pancake combined with:

Cherry sauce
Chocolate sauce

Egg combined with:

Baked items:

Lasagna (can be stacked up to 2 layers of sauce) combined with:

Timer items:
The decoration is exhibited on a catalog. There are 8 decorations available to be bought, costing a total of $2.550:
Chairs 'n Tables: These chairs will turn everyone into a regular customer, increases patience. Cost: $400.
Repair Edwards chair: Send Edward's favorite chair to be repaired, and make his day. Cost: $200.
Kitchen: Be a bit more efficient with this new kitchen. Cost: $500.
Beaded Curtains (Exclusive Premium Content): These colorful beaded curtains improve your customer's mood. Cost: $200.
Emily sign: This new sign attracts a grumpy old man bonus customer. Cost: $400.
Comfy Corner: Get extra comfortable and improve customer's patience with this new comfy corner. Cost: $300.
New rugs: Increase Emily's walk speed with these new rugs. Cost: $200.
Stained Glass (Exclusive Premium Content): Get an even better mood in Emily's Place with these stained glass windows. Cost: $350.
The cleaner of this restaurant is Emily's mother, Evelyn, unlocked on Day 1. The entertainer is François, who is teaching Emily's new puppy some tricks in front of the customers. He is unlocked on Day 6. 
Emily's Place
Overview: Emily receives a letter from her romance of 16 years ago. She and her florist, Partick, also show feelings towards each other. At the end, she decides to go to Paris to find Jean Paul.
Day 1 - Has Emily finally bought her a new place?
Emily is running her own cafe called Emily's Place. She is living on her own on the second floor of the cafe and her parents show up to help her with cleaning. Emily meets Patrick, her florist, and mentions a date missed on the day before. Patrick doesn't mind about it and gives her a rose. Emily's mother senses the crush both of them have and teases Emily about it. After the restaurant closes her mother Evelyn invites her to dine with them a healthy home-cooked meal, to which Emily refuses and claims she's fine by herself. 
Day 2 - Will Emily find a life outside work?
Evelyn finds a late delivered 16 years old love letter written by Emily's old summer romance, Jean Paul. Emily's father, Edward, advises her mother to deliver it to Emily and don't read it. Evelyn delivers Emily the already opened letter, claiming hamsters got into the mailbox. After reading it, Emily realizes that her French boyfriend from 16 years ago had indeed wrote a letter to her. 
Day 3 - What happened 16 years ago?
The romance between Emily and Patrick seems to bloom, with both showing signs of affection towards each other. Emily, however, spends the day reading the love letter and remembering the time she spent with Jean Paul and how he claims to wait for her no matter how much time has passed. François finally makes his appearance trying to get Emily to go out with him, but she prefers to stay a home reading Jean Paul's letter and sadly remembering her old romance.
Day 4 - Are Emily's tears a sign of joy? or of an old wound?
François is at the cafe and finds out about Emily's love letter, about how Jean Paul's mother didn't approve of their dating and how Emily always thought he never wrote her back. François encourages Emily to go to Paris in search of Jean Paul, saying that the arrival of the letter is a sign and already picturing their romantic French wedding. While Emily laughs at his crazy ideas Angela bursts in with an unknown character and tells everyone big news: She's getting married!
Day 5 - Is Emily's sister really getting married? More importantly, to who?
Patrick invites Emily to go to the Sundance festival, to which Emily refuses claiming that it's Angela's weeding the same day. After he leaves, Emily continues to daydream about Jean Paul and their romance. Meanwhile, François appears at the cafe and is decided to convice Emily to go to France. Meanwhile Angela and her mother go out to buy a wedding dress while Jimmy stays at the cafe and enjoys free meals from Emily. After an unsuccesfull shopping day, Angela is desperate and wants to postpone the wedding. Jimmy however reassures her everything will be alright as he'll take care of her dress.
Day 6 - Will Jimmy find Angela a dress in time?
Emily continues to daydream about Jean Paul, only to find through François that Jimmy decided it would be a nice gesture from Emily to have her do his and Angela's wedding reception at Emily's Place. Emily is angry at Jimmy buy accepts it. After work ends the wedding dress bought by Jimmy arrives, and Emily, her parents and François discover the dress to be hideous. The family decides that keeping this from Angela would be the best for all.
Day 7 - Will Angela's wedding be postponed?
​While Patrick is delivering Emily's flowers he offers to make Angela's bouquet, to which both Emily and her mother quickly accept. Evelyn then requests Emily's help to alter the dress, making her wear it while she tries to save it. When she is done Patrick enters to deliver the bouquet, seeing Emily all dressed like a bride. While Patrick hands her the bouquet, they both blush. After work ends Angela and Jimmy appear at the cafe to try the dress on. Angela loves the dress, and believing it was all Jimmy's doing, thinks Emily's reasons for not being nice to Jimmy are jealousy. She tries to make thinks up by asking Emily to be her bridesmaid.
Day 8 - Can Emily and Angela get through Anngela's wedding without strangling each other?
The family gathers up at the cafe to go the the chapel for Angela's wedding. Patrick shows up to congratulate Angela, but she's already getting ready. Suddenly a woman appears calling Patrick to go to the Sundance Festival. Emily gets upset realizing he has a date for the festival. She leaves for the wedding before finding out that the woman is in fact Patrick sister. After the wedding everybody goes back to the cafe, where Jimmy says it's open bar on the house, surprising Emily. When it comes to catch the bouquet a friend of Angela gets really competitive, but in the end Emily catches it.
Day 9 - Is Emily's catching of the bouquet a sign of things to come?
​Emily is woken up by her mom calling from downstairs. She slept with the dress on and bouquet in hand, dreaming about Paris. Patrick shows up again to deliver the flowers and comments on how good the bouquet on Emily's hand looks on her. Emily looks embarassed and asks about the festival, to which Patrick replies it was great. Remembering the woman he went with Emily gets sad, Patrick sees that and doesn't understand, saying goodbye and leaving. After cleaning the cafe and enduring her mom talking about her love life, Emily goes home to read Jean Paul's letter again. François comes in and she reveals that seeing Patrick's date the day after made her stay awake all night. She agrees now that they were all signs and that she needs to go to Paris on her own to find Jean Paul. François stays to take care of the restaurant.
Day 10 - Is Emily really going to Paris? How will Emily's mother react?
​François wakes up from Emily's bed and rushes down to find Emilly's parents already opened up the restaurant. They ask about Emily and he says she's not feeling well. Evelyn gets worried and tries to go see her, but François stops them with some excuse. Patrick arrives and Evelyn is still trying to go see Emily. François stops them saying she's with a man, which Evelyn doubts. Edward decides to do something to find out about Emily and tickles François until he speaks or lets them go through. They all go up to Emily's home and find a letter she wrote explaining she left to Paris. Patrick hears it all and seems to be sad with the news.
Carmen's ComedorEdit
Overview: Emily must stop for a detour in Madrid on her way to Paris. There she helps a mother and her daughter at their restaurant, Carmen's Comedor. The baggage help, Carlos is in love with Carmen, and they eventually go away together. At the end, Emily decides to go by train to Paris.
Day 1- What will happen to Emily in Paris?
Emily arrives at the airport only to find she has not landed in Paris, but in Madrid, Spain, due to a volcanic ashcloud in the region. Carlos, the airline company worker tells her she can wait for her luggage in the nearby restaurant, Carmen's Comedor. Meanwhile, Carmen and her mother Isabel struggle to serve all customers, who are clearly angry for waiting so much for their order. Emily offers to help them with running the restaurant and they quickly accept, leaving Emily all by herself. Carlos comes back to inform that all passengers luggage have arrived but Emily is not able to find her own. When returning to the restaurant she clashes with a man who tries to flirt with her and then leaves. Carmen and Isabel return and thank Emily for her help; she replies that she's stuck there until they find her suitcase. Carmen tells her she's welcome to stay there for however long she needs.
Day 2 - Is Emily's quest for true love over before it starts? 
Emily's suitcase is still missing, and she's beginning to question herself if leaving home was a good idea. Carmen reprimands her telling she doesn't want to end up like her, in her forties with no love. Carlos comes back to tell Emily they found her suitcase, but it is in Copenhagen. He tells her that although flight schedules have all been closed due to the ashcloud, the suitcase will get to Madrid in no time.
Day 3 - Will Emily ever get her suitcase back? How will Emily get to Paris?
Carlos promises Emily he'll have her suitcase back, and Emily thanks him, explaining it's not his fault her true love lives so far and she had to travel to meet him. Emily notices Carlos is not listening to her and seems to be distracted looking at Carmen. He's so lost into her he even manages to explode the vacuum cleaner. Carlos is miserable because he is in love with someone who doesn't even notices him.
Day 4 - Who is Carlos head over hells in love with?
Emily asks Carlos if he's in love with Carmen, and he replies he's always tried to catch her attention, but failed. Only if he could talk to her with the same courage as he has when dancing salsa. After work ends Carmen complains that the ashcloud's flight delays made the passengers more impatient and angry. Emily comes up with a plan for Carlos to give salsa classes to the passengers, and she asks Carmen to go with her so she won't be alone.
Day 5 - Will Carlos's salsa lesson have the desired effect on Carmen?
Emily's suitcase finally arrives! Now the only thing holding her to Madrid is waiting for the flight to Paris. Carlos is still sad about going to Paris alone. After the work ends Carlos comes in with some other passengers and flight attendants for his dance class. An elderly passenger named Antoine comes up and courts Carmen's mother, Isabel. After they leave for a stroll Carlos asks Carmen out for dinner, which she accepts.
Day 6 - Has love finally blossomed between Carlos and Carmen?
Carmen begins the day telling Emily how Carlos is amazing and how many things they have in common, and how they now plan to go to Paris someday to open a Salsa school. Carmen says he has a surprise for her that night, and Emily hints to her that her "someday" may come sooner than she thinks. After the work day ends, Carlos reveals that he has the tickets for the two of them to go to Paris, but Carmen protests, saying that she cannot leave her restaurant.
Day 7 - Is it all over between Carlos and Carmen?
After the rejection, Carlos is heartbroken and needs to be consoled by Emily, who tells him to give Carmen some time. After work, Emily talks to Carmen about going with Carlos. Carmen says that she cannot leave her restaurant and family, but Isabel tries to convince her to go.
Day 8 - Will Carmen change her mind?
When the crew goes in to work, Carmen finds a note from Isabel saying that she ran away with the man who courted her during the Salsa lesson. After work, Emily runs into Carlos, who says his goodbyes since there is nothing left for him in Madrid. He gives his regards to Carmen.
Day 9 - Will Carmen ever see her mother again? How will Carlos fair in Paris?
Before work starts, Carmen is upset about her mom leaving, saying that she is all alone. Emily tries to comfort her by saying that she will do all she can before she leaves by train the following day. She urges Carmen to go with her to Paris, but Carmen says that she lost her chance. Before leaving, Emily calls her mom to apologize for the way that she left, stating that there was "one more thing" that she needed to do before leaving Paris.
Day 10 - What is the "one more thing" Emily must do before leaving Madrid?
Emily thanks Carmen for her kind advice about following your dreams. Carlos surprises both of them at the end of the day, saying his dream wasn't to run a salsa studio, but to be with Carmen. They decide to leave for Paris, Texas together (not Paris, France). Isabel shows up after they leave, and says that she didn't really run away, but just wanted to give Carmen a "push".
Fresco's Diner ExpressEdit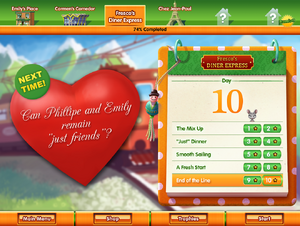 Overview: Emily helps out at the on board restaurant, Fresco's Diner Express, finding the source of food poisoning. Meanwhile, through some mix up she ends up sharing her sleeping car with Philipe, a food critic who flirts with Emily all the time. They eventually become friends, and he helps her on her quest to find Jean Paul.
Day 1: Will Emily finally make it to Paris?
Emily meets the owner, Fresco, who was scared that she was the health inspector there to shut him down. He then tells her that the dining car is closed. Emily of course offers to help clean up in preparation for the health inspector, and Fresco leaves for the day to order more supplies. Upon arriving in her bunk, Emily finds the same rude man, Phillipe, from the airport in the room she booked! She was unable to find her ticket to prove it was her car, because she somehow got the wrong luggage. She realizes she has no choice but to stay the night in the same room as the man, sleeping in a trunk.
Day 2: Who is that man in Emily's sleeping car?
Phillipe comes to see Emily at Fresco's restaurant and tells her that she needs to get her ticket validated with the conductor, and that Carlos called to tell her that her luggage will be in Paris waiting for her when she gets there. At the end of the shift, the conductor meets with Emily asking about her ticket, which is in her luggage in Paris. He tells her that she either needs to buy a new ticket or get off the train in the morning. When she gets back to the cabin, Phillipe has made a bed on the trunk, asking for them to start over. She declines kissing him and goes to sleep.
Day 3: Will Emily be thrown off the train?
Emily gets ready to leave the train, when the conductor tells her that someone had paid for it for her. She thanks Fresco, thinking it was his doing. Phillipe enters the restaurant and continues to harass Emily, revealing that he read her letter from Jean Paul, which he claims she left out in the open. After work, Emily offers to cook dinner for Fresco for all that he has done for her. Phillipe catches them eating dinner together and is not happy about it.
Day 4: What exactly is Phillipe's plan?
Phillipe threatens to report Fresco's Diner for food poisoning unless Emily goes to dinner with him. She refuses, and he seems very angry about her having dinner with Fresco. After working, she decides to have dinner with Phillipe to save Fresco's restaurant, but again gets turned off by Phillipe's overambitiousness. Phillipe is saddened by the turn of events.
Day 5: Will Phillipe destroy Fresco to get back at Emily?
The health inspector finally shows up at the dining car, and Phillipe is also there, as a food critic. To everyone's surprise, he tells the inspector how wonderful the place is. The health inspector still demands to try all of the food as a part of the inspection. Phillipe discusses being a food critic with Emily, when suddenly the inspector comes back saying that she got food poisoning, and they must find the source of it or the restaurant will get shut down.
Day 6: Will the health inspector shut Fresco's restaurant down?
Phillipe and Emily attempt to find the source of the food poisoning, and Phillipe once again tries flirting with Emily, who rejects him again. Back at the sleeping car, Phillipe claims that the bed is too soft for his back, and sleeps on top of the trunk, giving Emily the bed. Emily once again reads through the letter from Jean Paul.
Day 7: Has Phillipe really turned over a new leaf?
Fresco and Emily still cannot figure out what is causing the food poisoning. At the end of the day, Phillipe comes in to the restaurant and bumps into a customer, who calls him a shrimp. This gives Emily an epiphany, realizing that shrimp are the only item that Fresco cannot get locally. She opens the last box, and sees that some of the shrimp delivered are already going bad. They celebrate that they found the cause of the problem, and Emily gives Phillipe a hug.
Day 8: Is Emily developing feelings for Phillipe?
Emily and Phillipe discuss the letter from Jean Paul again, with Emily insisting it was fate that she received the letter after so long. Phillipe, on the other hand, believes that it was fate that the two of them kept being brought together. After work, Phillipe returns to the restaurant and makes dinner for himself, Emily, and Fresco.
Day 9: Are Phillipe's charms working on Emily?
Phillipe meets Emily in the dining car, review in hand, and asks her out for drinks. Emily again rejects him, saying that her destiny is to go to Paris to find Jean Paul. Phillipe is furious at her silly chasing of her dreams, and rips up the review. Emily was able to put it back together, and read how Phillipe admired her kindness. Returning to the sleeping car, Emily tells Phillipe goodbye and gives him the review back. Phillipe tells her that he is happy for her for chasing her dreams, and asks to remain friends. It is then that she realizes that Phillipe paid her train ticket for her to stay on, not Fresco.
Day 10: Can Phillipe and Emily remain "just friends"?
Fresco cries at the thought of Emily leaving, and she cheers them up. The train finally arrives in Paris, and Phillipe presents Emily with her suitcase, which contains many notes from her mother. Phillipe gives Emily the address of Jean Paul's restaurant, which he had previously reviewed as a critic, showing that he is willing to help Emily in her quest. The two hug and say their goodbyes.
Chez Jean-PaulEdit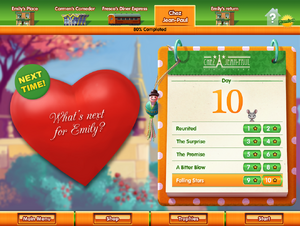 Overview: Emily finally arrives in Paris and meets Jean Paul, who sweeps her off her feet and promises to take her away to the country. Meanwhile, she meets a flower seller, Amelie, who expects her boyfriend to propose. The two girls create a friendship, but later realizes that Jean Paul is two timing the both of them. Heartbroken, Emily goes back home.
Day 1: What will happen to Emily in Paris?
Emily finally makes it to Jean Paul's restaurant, but he is nowhere to be found. She decides to work in the restaurant while waiting for him, and the woman who was there, Nadia, had to leave for an appointment, leaving Emily alone again. After work, she walks around Paris, seeing signs of romance everywhere.
Day 2: Will Emily track down Jean Paul? And will he be glad to see her?
Emily stops by a flower stall, ran by Amelie, and buys some flowers for Jean Paul, which reminds her of Patrick. She goes back to the restaurant to to find the lady that was there the previous day will be helping her clean. At the end of the day, she finally reunites with Jean Paul who doesn't remember her at first. She tells him she finally got his letter, and they hug.
Day 3: Will the two former lovers pick up where they left off?
Emily and Jean Paul stayed up all night talking, and so Jean Paul goes to sleep while Emily works in the restaurant. In the middle of the day, the two playfully chase each other around the restaurant. That evening, Emily wants to go to see the Eiffel Tower with Jean Paul, but he says he's too tired Instead, he offers to take her to the countryside or cook her dinner at the restaurant. While they eat dinner, Jean Paul tells Emily she was worth the wait, and they share a kiss under the stars at Chez Jean Paul.
Day 4: What's next for our two lovers?
Emily chats with Amelie about her kiss with Jean Paul. Amelie reveals that she believes that her boyfriend will propose to her soon, based on what her horoscope told her. After work, Jean Paul leaves the restaurant and drops a box, which Emily discovers to be a ring.
Day 5: Is Jean Paul going to propose to Emily?
Emily discusses with Nadia about if she wants to marry Jean Paul after only spending a few days with him. Meanwhile, Jean Paul looks all over the restaurant for the ring, and so Emily spends the day trying to put the ring back in his jacket so as not to spoil the surprise. Emily agrees to go with Jean Paul to the country.
Day 6: Is Emily jumping in too soon?
Emily and Amelie gush about their respective boyfriends proposing, with Emily deciding that she will say yes if Jean Paul proposes. Jean Paul is unable to spend time with Emily that night, but promises that they will go out to the country the following night.
Day 7: Is Jean Paul finally going to pop the question?
Emily spends the day collecting things that the couple need for their getaway into the country. After work, though, Jean Paul once again asks to postpone their trip.
Day 8: Is Jean Paul getting cold feet?
Emily wonders why Jean Paul still has not proposed to her despite having the ring. After work, Emily learns that Amelie finally got proposed to, and they decide to have a double date so their guys can meet. Suddenly the two women see Jean Paul kissing another woman, and they both shout that that is their Jean Paul. It is then that they realize that that he had been cheating on both of them, and playing them both. While Amelie is angry, Emily is devastated.
Day 9: Will Emily ever recover?
Emily is still devastated the next day, but Amelie comes by the restaurant to reassure Emily that they're still friends and that she will have her revenge if she sees Jean Pal again. In the middle of the day, Phillipe shows up to critique the restaurant. Amelie sabotages one of the plates with hot sauce, causing Phillipe to threaten the two-star status of the restaurant, which is Jean Paul's pride and joy. He yells at the two of them for ruining him, and Emily pushes him in to the fountain.
Day 10: What will Emily do next?
Emily tearfully says her goodbyes and returns back home.
Emily's ReturnEdit
Overview: Emily is back to Snuggford and tries to rebuild her life. Her family and friends support her, and although she doesn't notice at first, she begins to fall in love with Patrick, who clearly has feelings for her.
Day 1: Will the broken pieces of Emily's heart forever remain in Paris?
Emily returns and Emily's Place is in disarray. She is so tired that she doesn't even notice. Patrick stops by and asks if Emily found what she was looking for, and decides to be on his way. Meanwhile, many customers stop in to talk with Emily, but François excuses her and takes care of the restaurant. Evelyn goes to see what is wrong with Emily, since she didn't leave her apartment all day, but Emily just cries.
Day 2: Can Emily's family and friends help pull her out of the depths of despair?
Francois convinces Emily to come and work, but after the shift is over, she immediately goes back upstairs to her apartment. Eduardo convinces Evelyn that time heals all wounds.
 Day 3: Will "time heal all wounds" ?
Francois and Emily's parents find out that Patrick will be leaving for New York in a few days. Angela comes by with two puppies wanting to talk to Emily about her trip to Paris, but Emily is still unwilling to talk about it. One of the puppies stays and Emily has to make it stop bothering some of the customers, and the two seem to bond. At the end of the day, Emily finally decides to talk to her mom about what happened in Paris.
Day 4: Will Emily ever be able to love again?
Emily finally appears to have recovered after talking with her mom. She inquires about Patrick and learns that he's moving.
Day 5: What about Patrick?
Emily and Patrick finally see each other with Patrick helping out a hurt kid on her shop. They have an akward conversation with Patrick saying it's time to move on to new things and Emily saying she had a great time in Europe. Patrick leaves and Emily is left with François commenting about how weird is too see Emily flirting. Emily finds a single rose left by Patrick. François invites her to a bar, but she refuses.
Day 6: Is Emily finally moving on?
Emily has bonded incredibly well with the puppy, which makes her family happy. François decides it's time to teach the puppy a few tricks, so he sticks around. By the end of the day Emily meets the previous owner of the place, Mr. Farrell. He tells her the story of a girl he liked that always used to go to the store, but since he never went after her, she stopped appearing. He never found her and now he's alone.
Day 7: Is Emily doomed to the same fate as Mr. Farrell?
While Emily is cleaning her house when she finds a note on the rose Patrick left for her, making her blush. Emily gets down to find Patrick doing his last flower delivery before he leaves. Emily gets sad that he's leaving but she doesn't manage to say anything. Mr. Farrell returns with a couple of friends and tells Emily he's moving to Florida. He gives Emily a speech about not letting time pass by while one of Emily's senior customer, Gladys, appears at the cafe. It turns out she's the girl from Mr. Farrell's story, and after hearing she's back to Snuggford, he decided not to leave anymore. Emily finally opens up and decided to go out with François and tell him about her trip.
Day 8: Whom is Patrick taking to the family dinner?
Emily is much better after telling François everything. Patrick arrives to inform her about Jimmy's delivery to the wedding when a girl comes after him hurrying him up to the family dinner. Emily gets sad thinking they are together.
Day 9: Is Emily finally, truly over Jean Paul?
Emily realizes she has feelings for Patrick, but question herself if that means she is over Jean Paul. With a "little" push from François she also realizes that Patrick has a crush on her and that the girl from the day before is his sister Katie, not his girlfriend. During the day she decides to cooks some churros with chocolate the she learnt from Carmen as a thank you gift for Patrick. With Francois and her Mom's commenting on Patrick, Emily asks for Angela's advice. She agrees with everybodys opinion and tell Emily to keep the puppy, now named Rosie.
Day 10: Will Patrick and Emily ever be together?
Emily begins to wonder if she's been too focused at work and on her teenager love instead of what's in front of her. By the end of the day she decides to go deliver the churros to Patrick only to discover that he left the day before to New York. After hearing that, she finally confess that she's in love with Patrick but she's not willing to let it slip away, ripping Jean Paul's letter and rushing out of the café at the exact same moment Patrick is walking in with a big box of chocolates. He couldn't leave without telling her how he feels, the only thing that stopped him before was the fact that she was still in love with her high school boyfriend. Emily finally assumes that she was in love with a fantasy, to which Patrick replies that he's there for her and he's not a fantasy. Emily hugs him and they share a kiss.
François' Place (Exclusive Premium Content)Edit
On these 10 bonus levels the player will have the chance to play as François while he and Emily's family take care of her place while she's away on Europe.
Day 1: Can Emily's family and friends cope without having her around?
Day 2: Will Snuggy continue to be ill tempered in absence of Emily?
Day 3: Will Evelyn be able to restrain herself from trying to contact Emily?
Day 4: Will Edward discover Evelyn's deception?
Day 5: Is Snuggy finally more at ease? Or is there more mischief to come?
Day 6: Will one box of Auntie Dare's salmon liver pate treats be enough to satisfy Snuggy?
Day 7: Will Jimmy and Angela still like the food at Emily's place?
Day 8: Is Snuggy ok? And how is Jimmy doing?
Day 9: How can Snuggy possible be freed from his underground prison?
Day 10: Will Snuggy be rescued through a hole in the floor? Or will something else come out?
Main article: Trophies
There are 26 trophies to be earnerd on this game. They take the form of chocolates on a heart-shaped valentines box. After you finish the game, Emily and Patrick are shown tasting the chocolate and talking about the situations in which each trophy is won. You can also access this by selecting the Taste option on the Trophies Screen.
Home: Finish the first restaurant.
Time flies: Finish the second restaurant.
Leaving your tracks: Finish the third restaurant.
Haute cuisine: Finish the fourth restaurant.
The finishing touch: Finish the fifth restaurant.
Ka-Chinggg: Use your register one-thousand times.
That's pretty cheesy: Serve 150 dishes using any kind of cheese as an ingredient.
Ectasy: Make sure all your customers in Restaurant 5 return leave feeling ecstatic during a day.
Combolicious: Get a 2 costumer bonus three times in a row.
Delicious expert: Achieve expert score on all days.
Trying for target: Get only the target score three days in a row.
Making Snuggy proud: Find the mouse in every level.
Saving for the future: Have 1000 Decoration money or more your checkbook.
Three Variations: Place three variations of a single product on your tray.
Sweet Tooth: Fill your tray with desserts 10 times.
Making Evelyn proud: Finish 5 successive days whitout leaving any dirty tables before closing.
Oops I did it again: Delete 20 items from your tray and complete the day.
Let me entertain you: Entertain all seated customers during a whole day.
Making some room: Clean a table customerss are waiting to sit there.
Keep on walking: Let Emily walk 15 miles.
Shopping spree: Buy all shop items in all five restaurants.
Ring the bell: Pick 50 bell peppers during a day.
Serving charcoal: Burn ten dishes and complete the day on expert.
I'll take that two: Deliver the same order two times in a row.
Women's intuition: Have a complete order on your tray before the order is placed, two times in a row
Deliciously quick: Serve 100 products each within 5 seconds
External Links
Edit
Delicious - Emily's True Love at Zylom
Delicious - Emily's True Love Playthrough
Delicious: Emily's True Love Walkthrough & Cheats at casualgamesguide
Ad blocker interference detected!
Wikia is a free-to-use site that makes money from advertising. We have a modified experience for viewers using ad blockers

Wikia is not accessible if you've made further modifications. Remove the custom ad blocker rule(s) and the page will load as expected.